Logistics
Transportation and logistics are essential components to your enterprise's productivity. Whether by air, ground or sea, access to real-time data and always-on communications are critical. With specialized technology designed for each logistical category, you can accelerate productivity, profitability and operations. Discover the added benefits of the numerous transportation and logistics solutions offered by Zebra.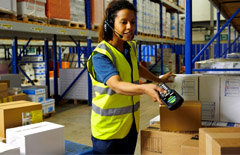 Warehouse Management

 – Provide accurate visibility and control over raw materials, spare pools and finished goods inventories within your warehouses and distribution centers.

Inventory Management

– Proper Inventory Management will provide you the essential data required for keeping items in stock while minimizing storage costs.

Barcode Label Printing  – Barcode Label Printing is key to tracking your items.  Media Source is here to recommend the appropriate Barcode Printers and Supplies for your application!